The hacker, who is responsible for one of the biggest cryptocurrency robberies of all time, returned almost the entire $ 600 million, saying he did it "for fun" and to expose a security breach.
Poly Network, which manages an interoperability platform between blockchain chains, confirmed yesterday via Twitter that $ 268 million worth of Ether tokens had been recovered, and over the next 24 hours, $ 342 million worth of tokens belonging to three cryptocurrencies were returned to company.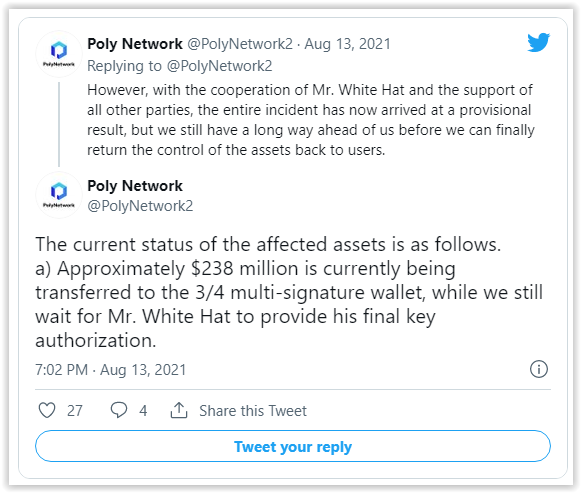 As he explained, the hacker – whom he calls "Mr. "White Hat", a term referring to a security hacker who is aware of security issues – returned all the stolen money, except for a small percentage that was "frozen" by the cryptocurrency issuer Tether after the piracy.
Most of the hacker's remaining assets had been transferred to a digital wallet controlled by both him and the company, but some are still missing.
It is unknown at this time what he will do after leaving the post.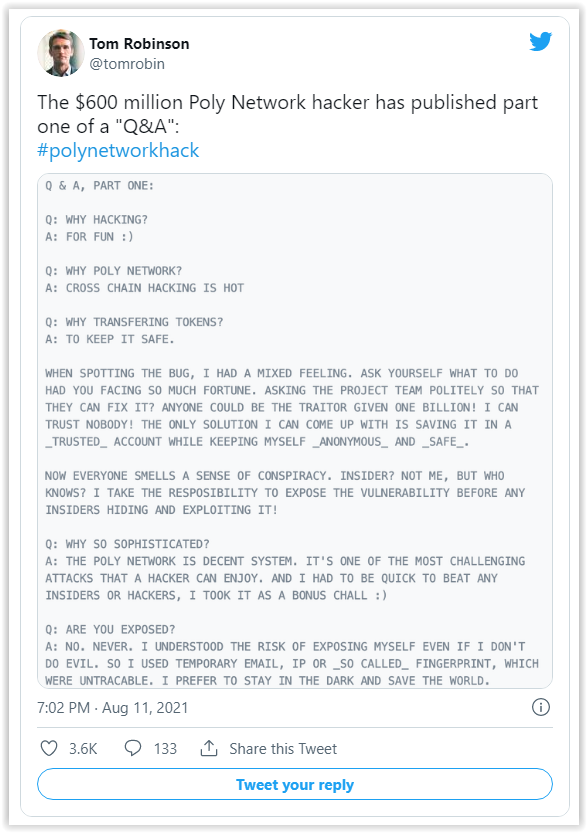 Tom Robinson, co-founder of London-based Elliptic, posted messages about the alleged hacker, saying, among other things, that Poly Network offered to pay him $ 500,000 if he returned the stolen items and promised "immunity from prosecution for the incident" – a proposal that , however, did not accept.
When he returned the money, the hacker allegedly claimed that "it was always in the plan to give it back". "I am not interested in money. "I would say that discovering this gap in the Poly Network system was one of the best moments of my life," he said.
Source: https://www-lifo-gr.cdn.ampproject.org/v/s/www.lifo.gr/now/world/o-haker-tis-listeias-600-ekat-se-kryptonomismata-epestrepse-ta-hrimata-ekana-gia-plaka?amp_js_v=a6&amp_gsa=1&amp&usqp=mq331AQIKAGwASCAAgM%3D&fbclid=IwAR1OkaWWr3JAsgTzMDG8D6DCohfQGzODNUiMH0etRZ9xbgpPHnJIonTlqkw#aoh=16290158391966&csi=1&referrer=https%3A%2F%2Fwww.google.com&amp_tf=From%20%251%24s&ampshare=https%3A%2F%2Fwww.lifo.gr%2Fnow%2Fworld%2Fo-haker-tis-listeias-600-ekat-se-kryptonomismata-epestrepse-ta-hrimata-ekana-gia-plaka
---
Related Post
---